CLICK HERE TO LISTEN AND ORDER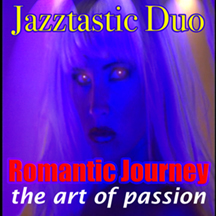 What do you get when you combine the pulsating rhythms of the ancient masters with New Age Musicians....... a very "Romanatic Journey". This album was created and structured to invoke the underlying animalistic passion in us all.

Each song is titled for the sequence of events it evokes. 3 years in creation, and recorded on 4 different continents, this album provides a road map to the ultimate goal of almost every relationship "love and passion."

Start with a glass of wine, or your favorite beverage, turn on the "Romantic Journey" and experience the "Art of Passion" as only the Jazztastic Duo can create.